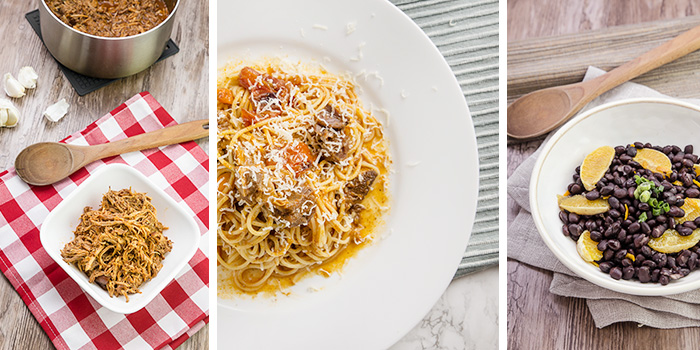 When Jacky mentioned buying a pressure cooker, I was thinking "screeching steamy EXPLOSIONS" and said "are you sure?" So I did my research. Man, I was so outdated.
Pressure cookers nowadays are so much safer to use. Besides the stove top conventional pressure cookers, there are electric pressure cookers. After some comparison shop, our eyes got fixed on the Instant Pot, a 7-in-1 electric pressure cooker.
We were so tempted when we've read so many praises and raving reviews everywhere. I was excited yet really skeptical about it. The Instant Pot seemed too good to be true, especially for such an affordable price!
We own 2 of these babies and have been using them heavily. We first bought Instant Pot IP-DUO60
2 years ago, then we couldn't resist getting Instant Pot IP-Smart
6 months later.
Here are 10 reasons why we love our Instant Pots.
1. Safe To Use
This electric pressure cooker has 10 built-in safety mechanisms and technologies that make it super safe to use. After 1 year of heavy use, none of those scary steamy rattling or explosions of any sort happened in our kitchen.
2. FAST Cooking – Saves So Much Time & Energy
One of the best things we like about Instant Pot is that it saved us so much cooking time. We want to eat healthier at home but just don't have all day to prep and cook in the kitchen. Instant Pot is our lifesaver!
For example, making Goat Stew in slow cookers takes 4 to 8 hours, compare to only 30 to 40 minutes using the Instant Pot. We also made super tender beef and lamb stew for under 30 minutes. Fall off the bone pork baby back ribs? Just under 25 minutes! Plus, making chicken stock at home has never been so easy.
Instant Pot's fully insulated housing is very energy efficient. Since the energy is only used for cooking, plus the cooking time has been shortened, it uses up to 70% less energy than other cooking methods. $$$ savings right there.
3. 1 Machine That Does the Job of 7
Besides being an electric pressure cooker, it's also a slow cooker, rice cooker, steamer, sauté/browning pan, yogurt maker, and warming pot. How can you be not skeptical when it sounds this good? Is it Jack of all trades, master of none? After 1 year of heavy use, I can assure you that it exceeded my expectations.
Rice cooker is a must in our house. We are were using a Panasonic rice cooker that makes amazing rice. However, it takes 1 hour to cook white rice. With Instant Pot? In just 7 minutes, we can cook rice that tastes just as good. We've since kissed our rice cooker goodbye.
We use the "Sauté" function a lot to brown the meat inside the pot or thickening sauces after cooking. So, there's no need to turn on the stove top, move the food from one pan to another, and one less pan to use and wash. This totally simplifies the cooking and cleanup process. Yes please!
4. Healthier & Tastier Food – Consistently TENDER Meat
The wonders of pressure cooking is flavorful and tender food. Since it massively cuts short the cooking time and uses less liquid, the food is more flavorful while retaining more nutrients.
Electric pressure cookers are especially awesome at softening tough pieces of food. With our Instant Pot, we've been able to consistently cook delicious, fall off the bone meat. Even when we cooked with frozen, non-defrosted tough meat! How awesome is that?
5. Simple and Easy To Use
Ok! You'd imagine that a 7-in-1 appliance would be so complicated to use that you'd give up once you open the instructions manual, right? Nooooooo! All you need is to be familiar with a few buttons and a few basic tips, then you're good to go. For us, we really only use these 4 buttons: "Manual", "Sauté", "+", and "-".
Throw in the ingredients, press a few buttons, and walk away. Cooking with electric pressure cooker is really this easy.
It's also easy to clean as the inner pot is made from stainless steel.
6. Super Convenient
The cooking process is fully automated. You don't need to stand by the stove top, adjust the heat, watch the timer, or remove the food at the right time to prevent undercooking or overcooking the food. You can literally throw in the ingredients, set it, and walk away.
The built-in microprocessor monitors the pressure and temperature, adjusts heating intensity and duration according to the amount of liquid and food you have.
After cooking, it even automatically switches to "keep warm" mode for up to 10 hours until you are ready to eat. You can also plan your meal ahead and let it cook at a later time (for up to 24 hours).
7. No Sweat, No Steam, No Smell, No Noise
Cooking with all the heat and sweat in the kitchen is definitely not fun nor pretty. Cooking when your house already feels like an oven on a hot summer day is like working out in a hot sauna room.
Not only can you walk away from the kitchen while cooking with Instant Pot, it's also designed to cook without heating up the surroundings. It's fully sealed when pressure builds up, so no steam, no smell, no noise, and no heat when cooking. Gives you a total peace of mind.
8. No Need To Defrost In Microwave
Have you ever tried going home from a long day of work, then you realized all you have is frozen meat? In it goes into the microwave. Well, with Instant Pot, you DON'T need to defrost food in microwave before cooking. It can go straight into the pot. The results? Delicious and super tender meat – just like our Goat Stew.
9. All Around Great Size
Pressure cookers come in all sizes from 2 quarts to 12 quarts. Instant Pot is 6 quarts large. It's best for singles, couples, or a family of four. This size provides a wide range of cooking options including soups, stews, or stocks. It's also not heavy to move around even if you're a smaller person.
10. Affordable
So yeah, everything sounds so great, but with all these great benefits, the Instant Pot must cost a fortune!? Nope.
Check the current prices and 6200+ customer reviews at Amazon: Instant Pot IP-DUO60
, Instant Pot IP-Smart
With a similar price as our rice cooker, it offers so much more value. It saved a lot of our time and can cook a variety of delicious meals (and chicken stock!) We paid the price of one for seven appliances that does the job well. So, that's why getting two Instant Pots was a no-brainer for us.
Conclusion
I call our two Instant Pots our Magic JackPots. Throw in the ingredients, press a few buttons, walk away, *puff* rewarded with delicious and tender food!
The longer we own and use our 2 Instant Pots, the more we love them. It simply made our lives much easier and more delicious! I was once skeptical, but now I understand all the praise and rave reviews. I couldn't stop smiling and nodding away at their comments.
We can't stop telling our family and friends about our 2 Magic JackPots. Our family and friends couldn't really wrapped their minds around why we got two, but you'll know what I mean when you get your first one! Hahaha~
Who Is the Instant Pot For?
If you want a slow cooker, pressure cooker, rice cooker, steamer, or yogurt maker, but doesn't want to purchase or store 5 different appliances in your kitchen? You'll love this.
If you don't have the time to do labor-intensive cooking, but want to make healthy and delicious food quickly and easily? This is perfect for you!
Where to Get the Instant Pot?
Instant Pot is manufactured by a Canadian company. We got ours from Amazon delivered straight to our door.
Check the current prices and 6200+ customer reviews here:
Do you already own an Instant Pot? If yes, we'd love to hear your stories and experiences in the comments!
Hungry? Check out our delicious collections of Instant Pot Recipes.
The views expressed in this review are our personal views and we purchased this product with our own money. The content was not sponsored or paid for in any way by the manufacturer or an agent working on their behalf.
To help us cover the costs of running our blog and our continuous expansions, this post engages the use of Amazon affiliate links. These affiliate links will help us earn a very small commission on purchases you make when you visit Amazon by clicking on one of our links. This is at NO additional costs to you! These commissions will help support us in doing what we love and keep this blog running. Thank you for your support! 🙂