Need simple breakfast ideas? Ready in less than 15 minutes, this sweet cinnamon apple recipe is a quick fix for your hot and sweet apple pie cravings!
The bold, comforting, and warm flavor of cinnamon is sooooo irresistible. Perfect for a sweet breakfast topping, pastry filling, dinner side, or dessert!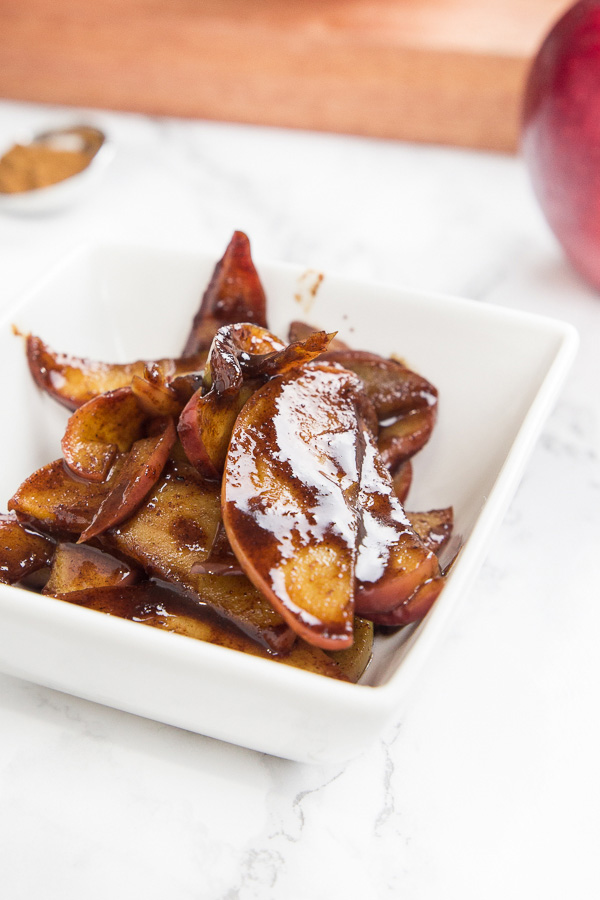 Scroll down for How to Make This Sweet Cinnamon Apple Slices video.
Apples, cinnamon, nutmeg, and butter are BFFs to the ends of the earth. Together, they work like magic! Think piping HOT straight-out-of-the-oven juUUuicy apple pie filling. The saucy sweet bites of tender apple slices wrapped with a kick of lingering cinnamon spice that warms your soul. MmmMMm…
It was so cold this morning and our bed is oh so comfy and warm. What's that warm soothing smell?? I quickly crawled out of bed and found that Jacky was cooking cinnamon apple for my favorite waffle breakfast!!! Is it my birthday?! Hahaha~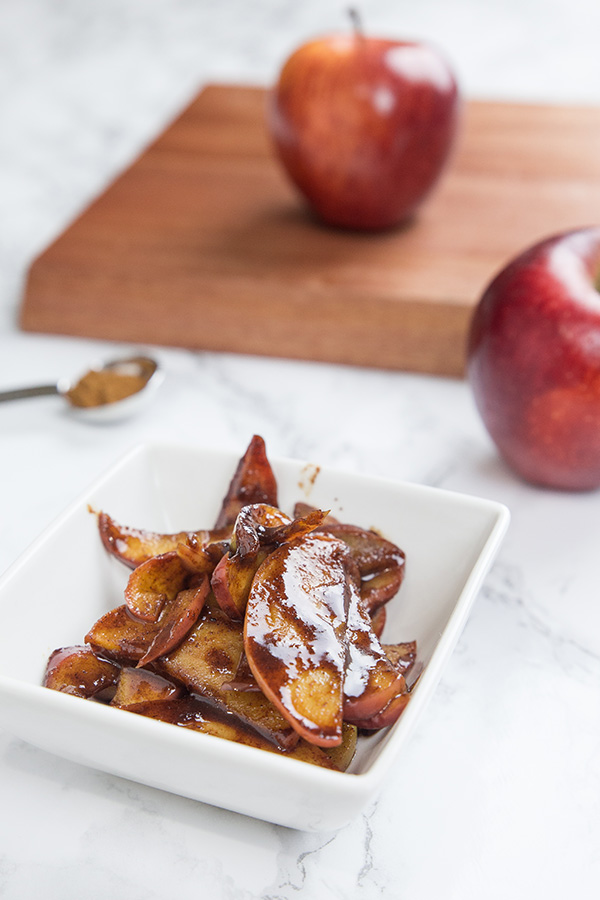 Look at those dripping thick cinnamon sauce! Jacky loves his doses of cinnamon.
It must have been waaaaay too long since the last time I've had any apple pies or apple tarts. We just bought a huge bag of royal gala apples, but we have just been eating them as is or tossing them into salads. We love our galas for a balance of sweet and tart, and how they're juicy with a fine texture. They're awesome for baking and cooking.
Ha! So I quickly stole a few slices straight from the pan. Gosh! The cinnamon apple slices are so full of flavors and soooooo easy to make! All my happy memories of apple pies literally came screaming through my mind. 😀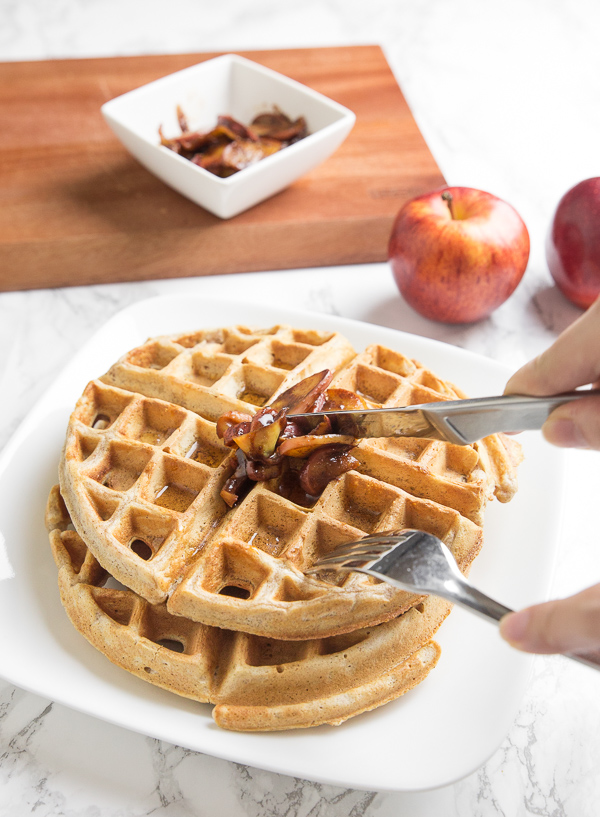 Step aside my love (maple syrup). From now on, I'll make this cinnamon apple with pancakes, crepes, toasts, waffles, pies, tarts….! Oh, and ice-cream too!!! 😀
Sweet Cinnamon Apple Slices Recipe Tips
The cinnamon will mellow the tartness of the apples. You may try using tart apples such as Granny Smith for more tartness. Or try mixing different types of apples!
We sliced our apple thinly so it'll cook faster, absorb more flavor, and taste tenderer. You may try cutting them in cubes, chunks, or thicker slices to have more crunch and texture. Just adjust your cooking time accordingly. Don't forget to add more water if the cinnamon sauce is drying up.
For those who are not as huge a fan for cinnamon, try using 2 apples or half the cinnamon for this recipe. Adjust accordingly to your love for cinnamon.
You know you're craving for these saucy sweet cinnamon apple bites! Such a simple breakfast idea. Start cooking and tell us what you think. We want to hear from you! 🙂
Watch How To Make This Sweet Cinnamon Apple Slices:
video
Can't see the cooking video? Watch it here.
Let's get cooking! Omm nom nom…
Craving more? Subscribe to Nom Recipes to get our newest recipes delivered straight to your inbox. Stay in touch with us on Facebook, Pinterest, Instagram, Twitter, and Youtube for our latest updates.


Sweet Cinnamon Apple Slices
Simple recipe, quick fix to soothe your cravings for a hot and sweet apple pie. The tender apple with bold and comforting cinnamon flavor are simply irresistible. Perfect for a sweet breakfast topping, pastry filling, dinner side, or dessert!
Recipe type:
Breakfast/Brunch, Dessert, Side Dish
Ingredients
1 gala apple, sliced
1 ½ tablespoon light brown sugar
1 teaspoon ground saigon cinnamon
¼ teaspoon ground nutmeg
1 tablespoon butter
2 tablespoons water (more may be needed when sauteing)
Instructions
Coat Apple Slices: in a large mixing bowl, mix apple slices with brown sugar, ground cinnamon, and ground nutmeg
Cook Coated Apple Slices: in a medium saucepan, melt butter over medium heat, add 2 tablespoons of water; stir occasionally for 8 minutes or until apples are tender. Add more water if the cinnamon sauce is drying up
Remove from heat and serve warm
Notes
Different Apple Varieties: may substitute with other baking apples such as Rome or McIntosh. If you prefer more crisp and tartness, may substitute with Granny Smith. Or try half and half!

Thickness of Apple Slices: thinly sliced apple will cook faster, taste tenderer with more flavor; while thicker slices will have more crunch and texture.

Cinnamon: for those who are not as huge a fan as us for cinnamon, you may either use 2 apples for this recipe or reduce the cinnamon accordingly.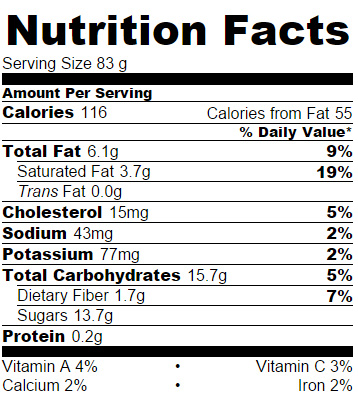 If you're making this recipe, snap a photo and hashtag #nomrecipescom on Instagram or send it to us! We would LOVE to see and celebrate delicious food with you!! 🙂