This baked Parmesan meatballs recipe is so EASY to prep. Tender and moist meatballs soaked in rich and savory tomato sauce. Deliciously perfect with pasta, or just as is.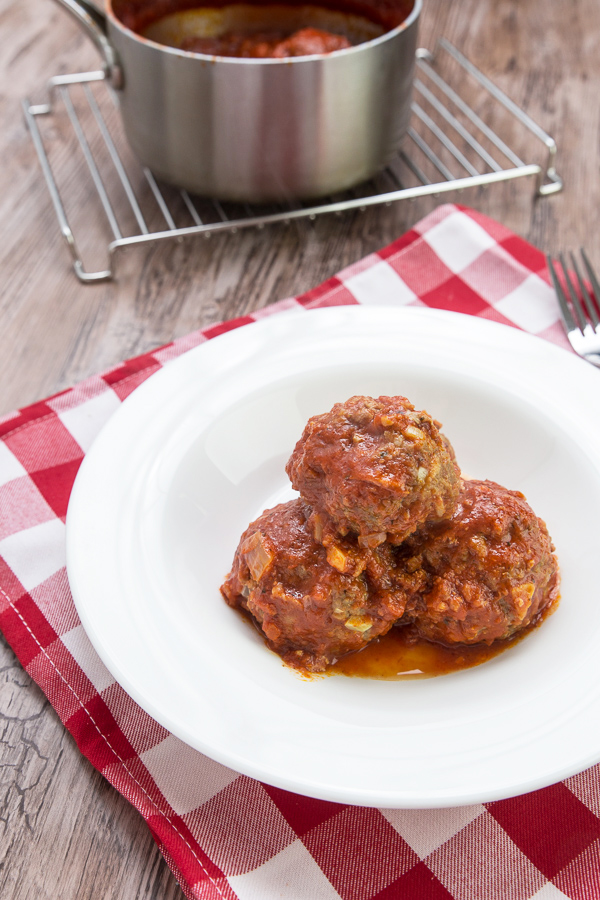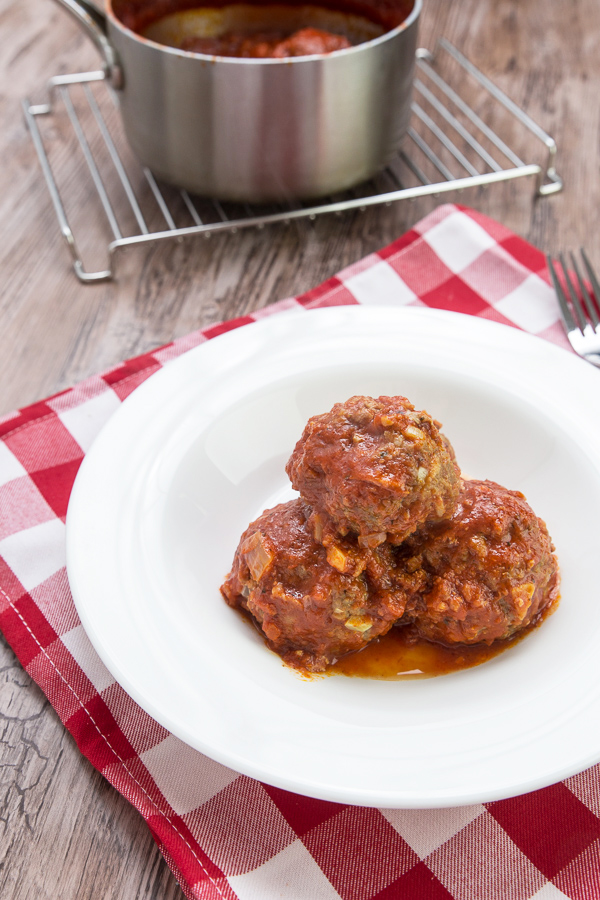 Scroll down for How to Make This Easy Baked Parmesan Meatballs video.
Delicious globes of ground meat and bacon bits with Parmesan cheese and tomato sauce. These saucy meatballs just hit the spot. They"re:
Big and mouthful,
Tender and moist,
Flavorful,
Slight crisp surface with soft juicy interior,
Quick, easy, and thrifty!
Plus, they"re so full of freshly grated cheeeeeeeese! Ya, you"ve probably figured that I"m crazy about cheese.
Serve these meatballs with our quick & easy tomato sauce. The sweet and sour flavors of tomatoes work really well with stocks. So, by mixing chicken stock and tomato paste into the tomato sauce, you"ll get a rich and savory red sauce.

What we love about this recipe is that it"s so simple and straightforward. All you need to do is:
Mix the ingredients
Roll the meatballs
Shove them in the oven
Simmer in the tomato sauce
and Serve!
No kidding! It"s really that easy.
Be sure to use the fattier meat for more tender meatballs.
These meatballs would be great with so many things: spaghetti, pasta, sliders, subs, pizza, or just enjoy them on its own!
You can make these meatballs when you"re looking for something easy, fulfilling, and thrifty: weeknight meals, treating guests or make a big batch for potluck parties.
Ready to roll some meatballs? Let"s get cooking!
Watch How To Make This Easy Baked Parmesan Meatballs:
video
Can't see the cooking video? Watch it here.
Craving more? Subscribe to Nom Recipes to get our newest recipes delivered straight to your inbox. Stay in touch with us on Facebook, Pinterest, Instagram, Twitter, and Youtube for our latest updates.

Easy Baked Parmesan Meatballs
This oven baked parmesan meatballs recipe is super QUICK and EASY to prep. Chunky and juicy meatballs are full of cheesey flavors and crunchy bites. Deliciously perfect with spaghetti, or just as is. Our meatballs were slightly bigger than golf ball size, we were able to make 10 meatballs with this recipe.
Recipe type:
Dinner, Lunch, Main Course, Meat, Pasta, Sauce
Ingredients
Meatballs
1 pound lean ground beef
3 ounces bacon, minced
½ cup panko bread crumbs
¼ cup milk
½ teaspoon kosher salt
½ teaspoon Worcestershire sauce
¼ teaspoon black pepper
1 small onion, finely chopped
1 extra large egg, beaten
4 cloves garlic, finely minced
60 grams parmesan cheese
1 teaspoon dried oregano
1 teaspoon ground fennel seed
Served with Quick & Easy Tomato Sauce
398 mL tomato sauce
156 mL tomato paste
500 mL chicken stock
1 teaspoon basil
1 teaspoon dried oregano
Instructions
Combine all the meatball ingredients in a large mixing bowl and mix well.
Test the seasoning by cooking a small portion of the meatball ingredient mixture in a pan and taste.
Preheat oven to 450F.
Roll the meatballs in your hands to your desired size. Ours were slightly bigger than golf balls and we were able to make 10 meatballs.
Put the meatballs on top of a baking tray with baking sheet into the oven until the top is browned (around 17 minutes).
When the meatballs are in the oven, combine all the tomato sauce ingredients in a medium pot and heat it up until simmer.
Remove meatballs from oven and add the meatballs to the simmering tomato sauce. Make sure the tomato sauce can cover the whole meatball.
Don't stir or touch the meatballs for 10 minutes.
Serve with more cheese on top if desire.
Notes
Confirm that the internal temperature of the meatballs are 145F before serving.
If you"re making this recipe, snap a photo and hashtag
#nomrecipescom on Instagram
or send it to us! We would LOVE to see and celebrate delicious food with you!! 🙂