Searching for a rice noodle recipe? Beef Chow Fun 乾炒牛河 (gon chau ngau hor) may just be what you needed! Fall in love with this popular Cantonese comfort food. Forget the Chinese takeout and make this yourself at home. Truly authentic and fulfilling!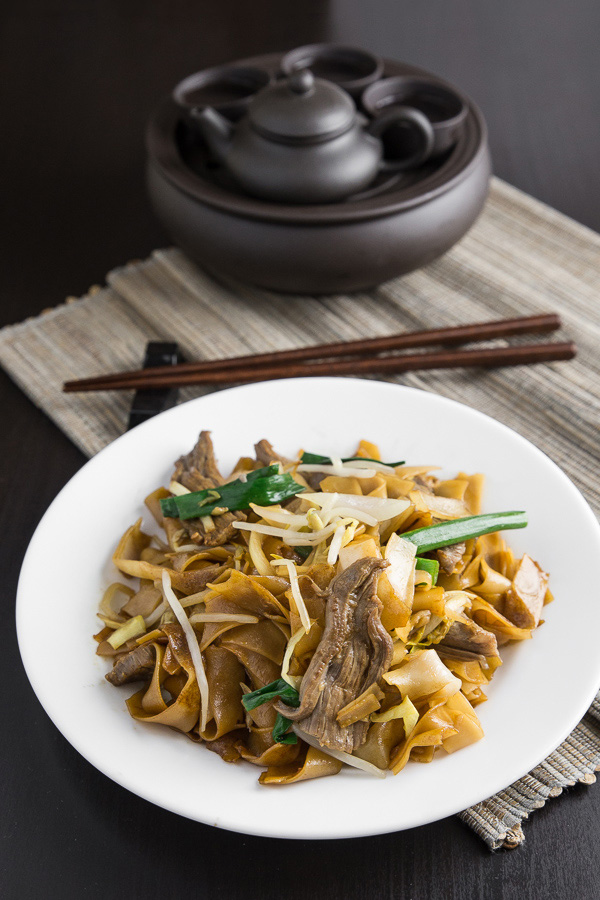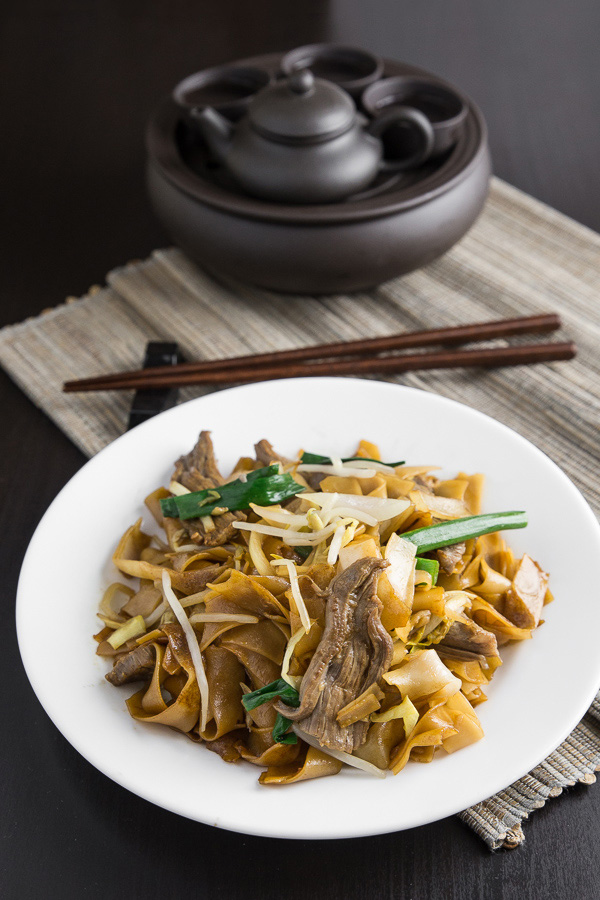 Scroll down for How to Make This Stir-Fried Beef Chow Fun Noodles 乾炒牛河 video.
Jacky and I were born and semi-raised in "the Gourmet Paradise" Hong Kong. The culinary scene there is just AMAZING! If you haven't been there yet, put it in your bucket list. You'll fall in love with this vibrant city full of delicious FOOD! Omm nom nom… 😀
Beef Chow Fun is definitely one of our favorite comfort food from home. You can find this popular dry-fried beef rice noodles everywhere from fancy local restaurants to open-air food stalls "dai pai dongs" to fast food restaurants "cha chaan tengs".
Since it's quite a tricky dish to cook, not many get it right. However, when one gets it right, it's a serious homerun! It's sooooo good that you can never get enough of it!!!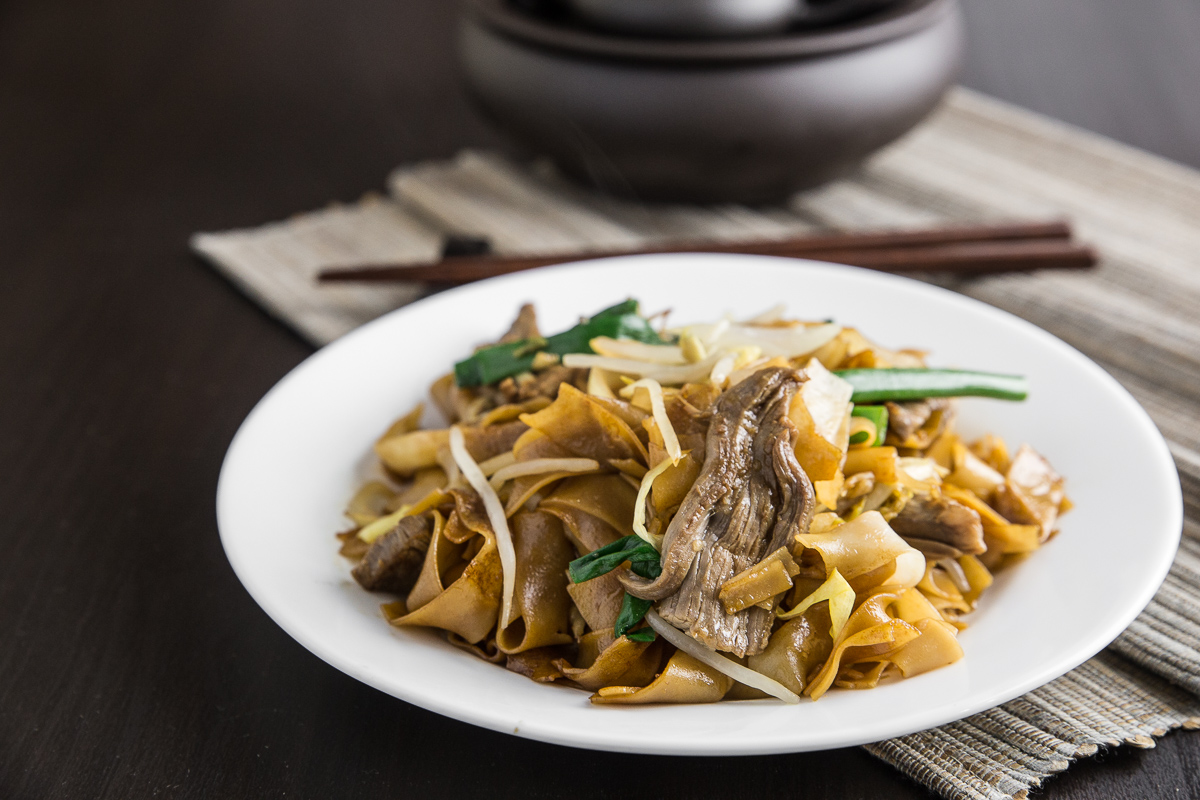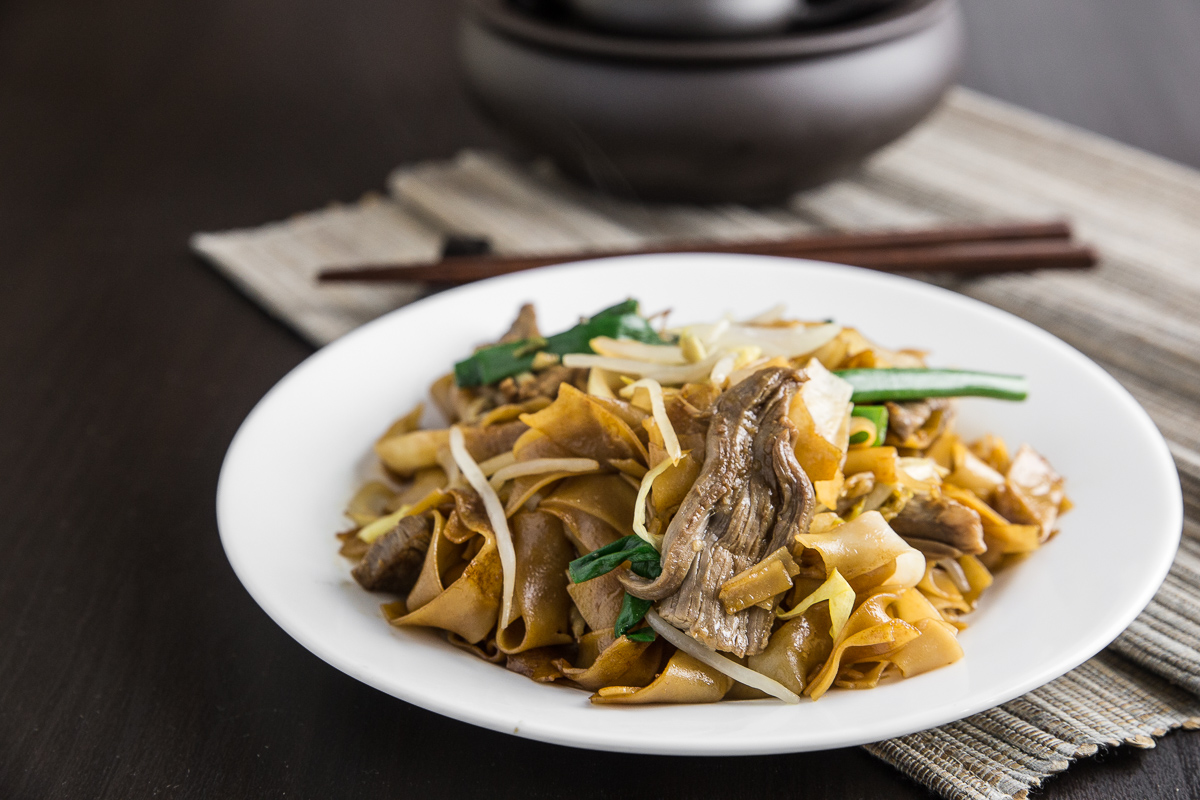 During the 1930's, it was wartime in Guangzhou China. One late evening, a hungry military man came to a food stall to order a plate of wet-fried beef rice noodles. So the chef quickly went to his kitchen to find….we've all been there…he ran out of the most essential ingredient for the sauce of this dish.
So, he had to refuse cooking the rice noodles for this hungry man. This military man got so furious that he pulled out his gun! Woah, just when you thought your spouse is the most hangry cranky person on Earth?!
The chef immediately ran to the kitchen and risked his life making a dry-fried version of the rice noodle omitting the sauce. When the military man tasted the rice noodles, he was satisfied. So he spared the poor chef's life. *whew*
That was the beginning of the Beef Chow Fun legend (hence, dry-fried beef rice noodles).From then on, it became their signature dish, with a hell of a crazy story to tell.

Stir-Fried Beef Chow Fun Noodles Recipe Tips
We've used wide/thick dried flat rice noodles over fresh flat rice noodles as the fresh ones may not be accessible for some. For best results, cook the rice noodles ahead slightly undercook (~1 minute before al dente), drain well with a colander, and refrigerate them preferably overnight. If you got fresh ones, YAY! You can skip this step.
It's fairly common for Chinese restaurants to use baking soda to tenderize the beef, we rather skip this eating at home though.
"Wok hay" flavor achieved by using a wok to cook is very important for this dish. However, we don't have a wok or a high BTU gas range. Instead, we've used pan-searing technique to imitate the "wok hay" flavor the best we could. The result? Evenly browned rice noodles with a deep flavor, not too oily, al dente, and dry-fried texture.
If you have leftover yellow Chinese chives, try making our super quick and easy Chinese Chives with Milky Fluffy Eggs Recipe 韭黄炒蛋 ! 🙂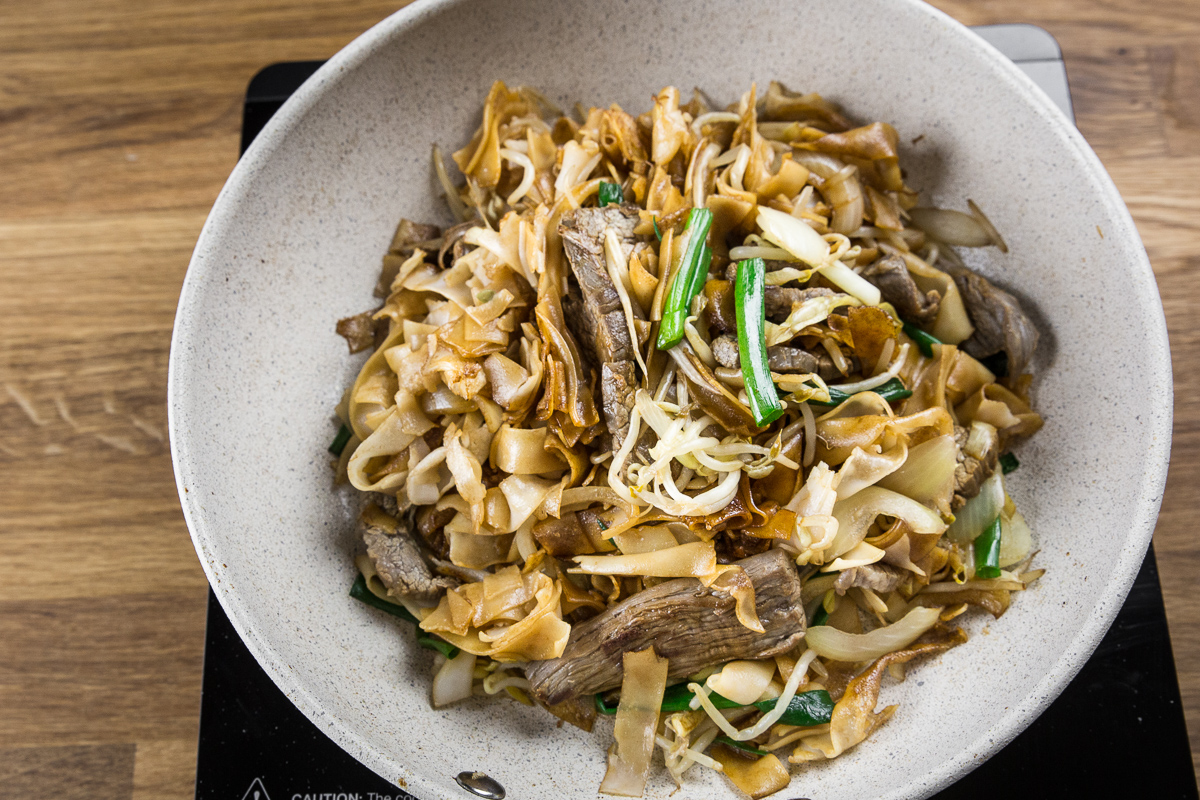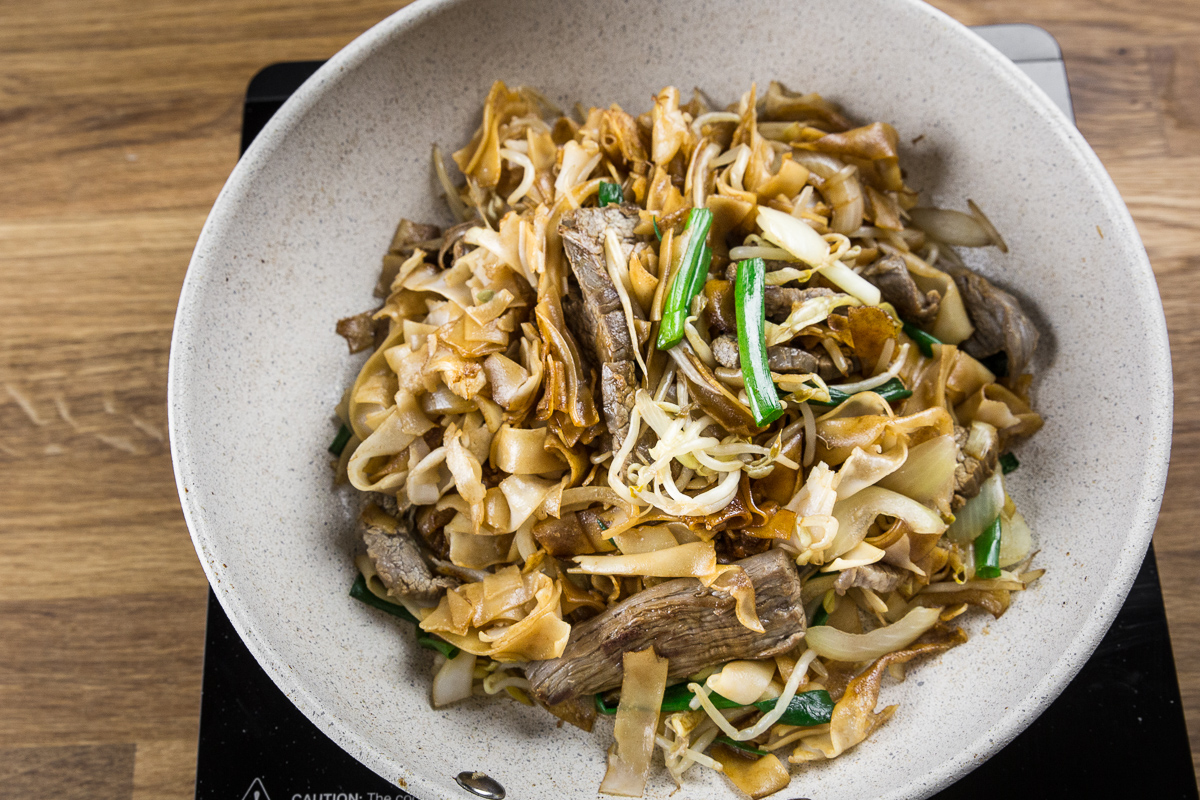 Watch How To Make This Stir-Fried Beef Chow Fun Noodles 乾炒牛河:
video
Can't see the cooking video? Watch it here.
So, how did you do? Tell us about it, we want to know! 🙂
Craving more? Subscribe to Nom Recipes to get our newest recipes delivered straight to your inbox. Stay in touch with us on Facebook, Pinterest, Instagram, Twitter, and Youtube for our latest updates.

Stir-Fried Beef Chow Fun Noodles 乾炒牛河
Beef Chow Fun 乾炒牛河 (gon chau ngau hor) is a popular Cantonese comfort food. Forget the Chinese takeout and make this stir-fried rice noodles yourself at home. Truly authentic and fulfilling!
Recipe type:
Dinner, Lunch, Main Course, Noodles
Ingredients
200 grams flat rice stick noodles – thick/wide
250 grams flank steak, sliced into pieces
1 small onion, cut in strips
150 grams Chinese yellow chives (or Chinese chives), cut 2 inches long
50 grams bean sprouts
2 stalks green onions, cut 2 inches long
7 teaspoons oil, divided
½ teaspoon salt
Beef Marinade
Flat Rice Stick Noodles Sauce
2 tablespoons dark soy sauce
2 teaspoons light soy sauce
1 teaspoon sugar
Instructions
Step 1 Cook Dried Flat Rice Noodles Ahead
Add 1 teaspoon oil and dried flat rice noodles in boiling water, cook for roughly 6 minutes until slightly undercooked or 1 minute before al dente
Remove rice noodles, drain with a colander, run them under cold water immediately until cold
Drain noodles well, put them in a large mixing bowl with paper towel at the bottom to absorb the water
Refrigerate rice noodles for at least 2 hours (FYI: we have left it in the fridge for 8 hours)
Step 2 Preparation
Marinate flank steak for 20 minutes
Separate rice noodles gently by hand without breaking them, as they will stick together after being refrigerated
Step 3 Cook Beef + Vegetables
Heat pan over high heat, add 1 tablespoon oil
Add beef and sear until browned (~60% cooked)
Add onion, cook for 2 minutes
Add Chinese yellow chives and bean sprouts, stir
Add green onions, stir
Add roughly ½ teaspoon salt to taste (please taste!)
Drain beef and vegetables on a sieve, set aside
Clean and dry pan
Step 4 Cook Rice Noodles
Heat dried pan over medium heat, add 1 tablespoon oil
Spread noodles evenly on pan and do NOT stir!!
Pan-sear noodles for 2 minutes on each side
Use chopsticks to gently separate noodles and try not to touch or move them that much
Add flat rice stick noodles sauce, use chopsticks to GENTLY mix noodles with the sauce
Make sure noodles are coated evenly with the sauce. Continue to pan-sear noodles for 1 minute on each side
Add beef and vegetables back in
Stir all ingredients gently a few times, then serve!
Notes
The rice noodles are too delicate for stirring and will easily break into pieces and ruin the dish. Please be gentle and try not to move or stir the noodles unless necessary.

If you are able to get your hands on some fresh flat rice noodles, awesome! Skip "Step 1 Cook Dried Flat Rice Noodles Ahead".

Remember to dry up the pan after cooking the beef + vegetables before cooking rice noodles in the pan.

May add a pinch of sesame as an extra topping before you serve to add a bit more texture to the dish.
If you're making this recipe, snap a photo and hashtag #nomrecipescom on Instagram or send it to us! We would LOVE to see and celebrate delicious food with you!! 🙂