This no fuss baked Japanese beef curry is the real deal. Sweet and spicy Japanese curry is LOVE at first bite! Each comforting bite of aromatic rice soaked in rich curry sauce, paired with juicy beef, topped with melted mozzarella cheese. Life is GOOD! You need to try this.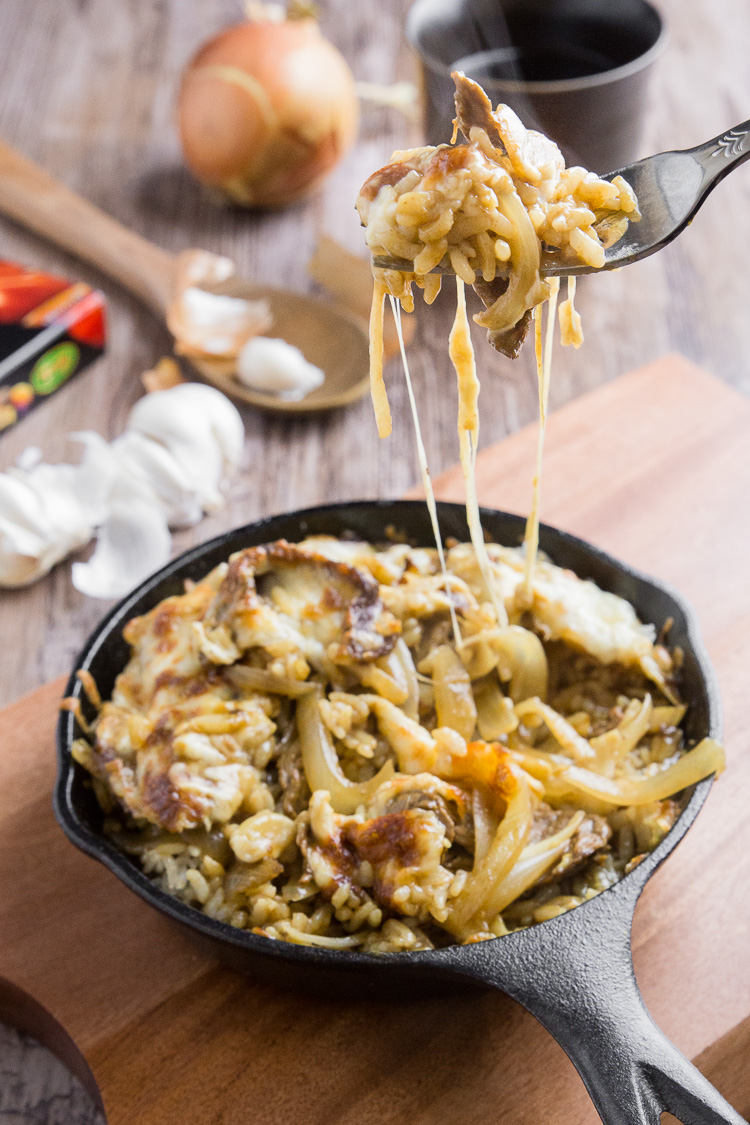 Scroll down for How to Make This Cheesy Baked Japanese Beef Curry Rice video.
Are you a fan of curry? I was so hooked after tasting Japanese curry for the first time. It's so different from all the curries I've tried. Who knew that this mildly sweet and thick spicy sauce can be so addictive?!
I was under "Japanese curry" spell for a long time. When I see it on the menu, I'd order it! The spell was finally dismissed when my good friend said "Hey! Why order it in restaurants when it's SUPER easy to make at home?"
In our recent trip to Japan, there was a time we ran like CRAZY on the streets of Tokyo as if we were catching a plane. Yep! We were running to eat Japanese curry.
Don't be mistaken! It was no ordinary Japanese curry. It was cheesy baked Japanese beef curry on rice!
When the little brown pot arrived with thick curry sauce and melted cheese, we quickly dug in. GOSH! It was SOOO SPICY but oh-so-delicious!
It took us so long to finish the dish because we literally had one sip of water with every spoonful of rice, and we'd stick out our tongues and fan it to cool it off. Hahaha! We must have looked like some silly tourists.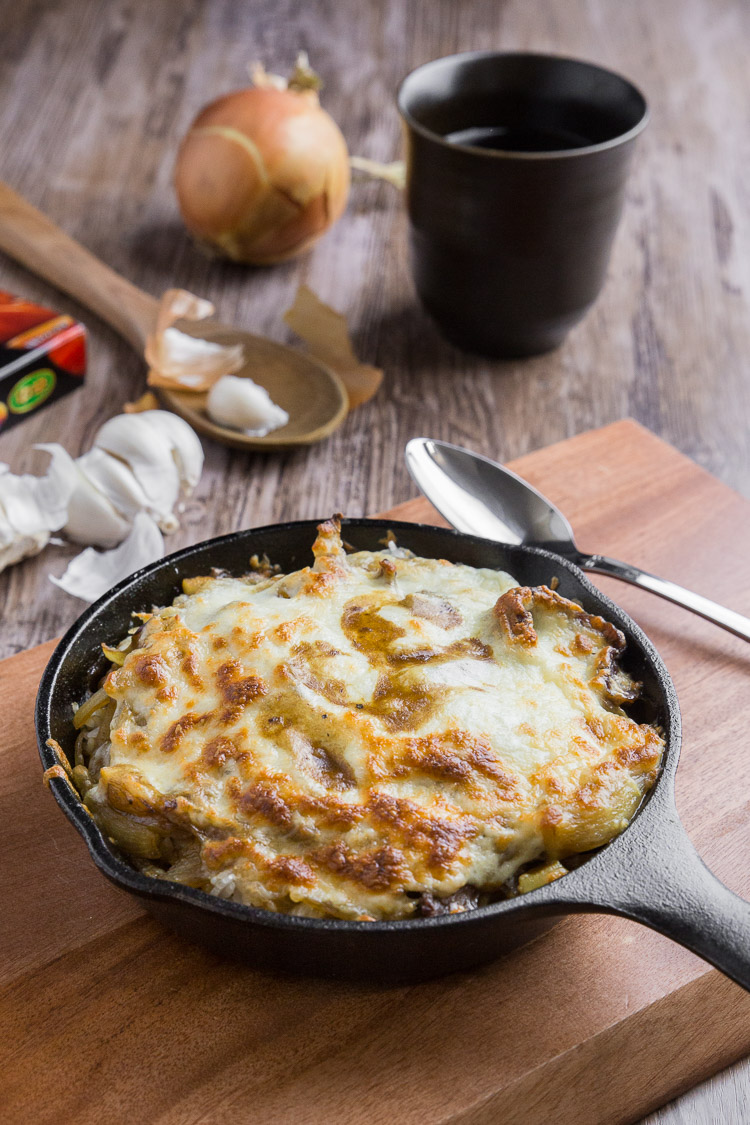 We bought home some Japanese curry roux and we're thrilled to recreate this dish while laughing at our memories. Such a simple comforting dish, super easy to make.
Once out of the oven, we gobbled it up in 5 minutes!  The thick rich saucy rice topped with juicy beef and melted cheese is so satisfying and fulfilling!
Cheesy Baked Japanese Beef Curry Rice Recipe Tips
For variations, you may substitute the beef with pork or chicken.
Feel free to try adding your favorite vegetables like carrots or celery to the dish.
Watch How To Make This Cheesy Baked Japanese Beef Curry Rice:
video
Can't see the cooking video? Watch it here.
Time to meet your love at first bite! What did you think of this Japanese beef curry recipe? Tell us all about it, we want to know 😀
Craving more? Subscribe to Nom Recipes to get our newest recipes delivered straight to your inbox. Stay in touch with us on Facebook, Pinterest, Instagram, Twitter, and Youtube for our latest updates.

Cheesy Baked Japanese Beef Curry Rice 焼きカレー
No fuss baked Japanese beef curry is the real deal. Sweet and spicy Japanese curry is love at first bite! Aromatic rice soaked in rich curry sauce, paired with juicy beef and melted mozzarella cheese.
Recipe type:
Dinner, Lunch, Main Course, Quick Meals
Ingredients
1 tbsp olive oil
1 cup short grain rice (Japanese rice)
300 grams beef, thinly sliced
2 cubes Japanese curry
2 small onion or 1 large onion
4 cloves garlic, minced
500 ml water, divided
Grated mozzarella cheese (enough to cover the whole ramekin)
Instructions
Cook rice
in rice cooker: use 1 cup rice + 1 cup water ratio
or in Instant Pot Pressure Cooker: use 1 cup rice + 6 cup water ratio for 7 minutes
Heat medium saucepan over medium high heat, add oil, onion, a pinch of salt and pepper, cook for a few minutes until soften
Add minced garlic
Add beef and cook until roughly 70% cooked
Add 100 ml of water and deglaze saucepan by scrubbing the bottom with a wooden spoon (tons of flavors there!)
Add the remaining 400 ml of water, wait until it is boiled
Preheat oven to 425F
Add 2 cubes of Japanese curry to saucepan, turn off heat and stir until curry cubes have completely dissolved, and taste!
Put rice at the bottom of a cast iron skillet, beef curry over the rice, then cover the whole surface with grated mozzarella cheese
Put cast iron skillet into oven for roughly 15 minutes or until the cheese have fully melted and formed a nice crust
Serve immediately!
Notes
Remember to taste the curry sauce before pouring it onto the rice.

Add another cube of Japanese curry or salt to your preference.
If you're making this recipe, snap a photo and hashtag
#nomrecipescom on Instagram
or send it to us! We would LOVE to see and celebrate delicious food with you!! 🙂